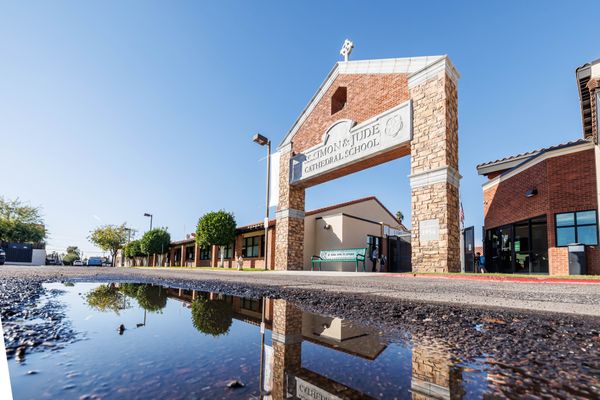 GENERAL ADMISSION INFORMATION
Thank you for your interest in SS. Simon & Jude Cathedral School, the "Home of the Irish!"
If you would like to apply for admission to our school, please click here: Application Packet (English) or Application Packet – Spanish in Spanish.
Download the application packet, fill it out, and return it to the School Office. Do you have questions about the application process? Please call Mrs. Eileen DeMaio at 602-242-1299.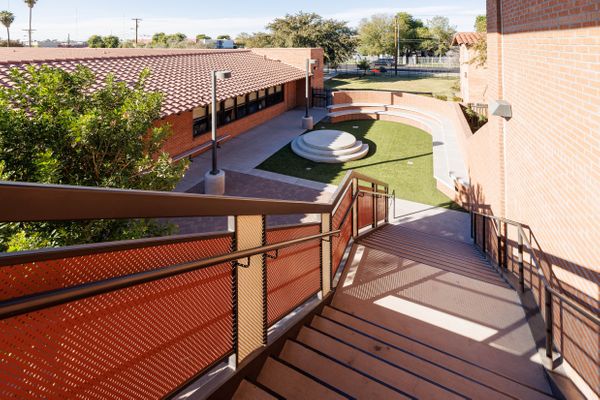 INTERESTED IN A TOUR OF OUR SCHOOL?
If you would like to schedule a tour of the school, please send us an e-mail at ssjschool@simonjude.org and we will respond to your request within 24 hours. If you prefer, you may call us directly at 602-242-1299. We offer tours of our school in both English and Spanish.
Our preference is to give tours before lunch, but we are happy to work around your schedule. Tours generally last about 40 minutes and you are encouraged to bring your child with you for the tour.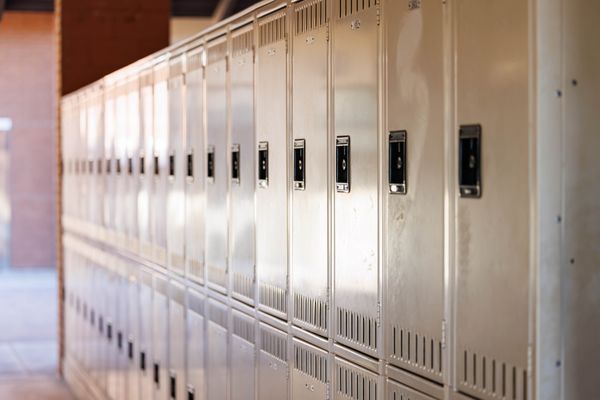 IN NEED OF TUITION ASSISTANCE?
Catholic education is an investment in your child's future. Over half of our students are on some form of financial assistance and we have a variety of options available for our families. Please visit our TUITION ASSISTANCE/SCHOLARSHIP page for detailed information.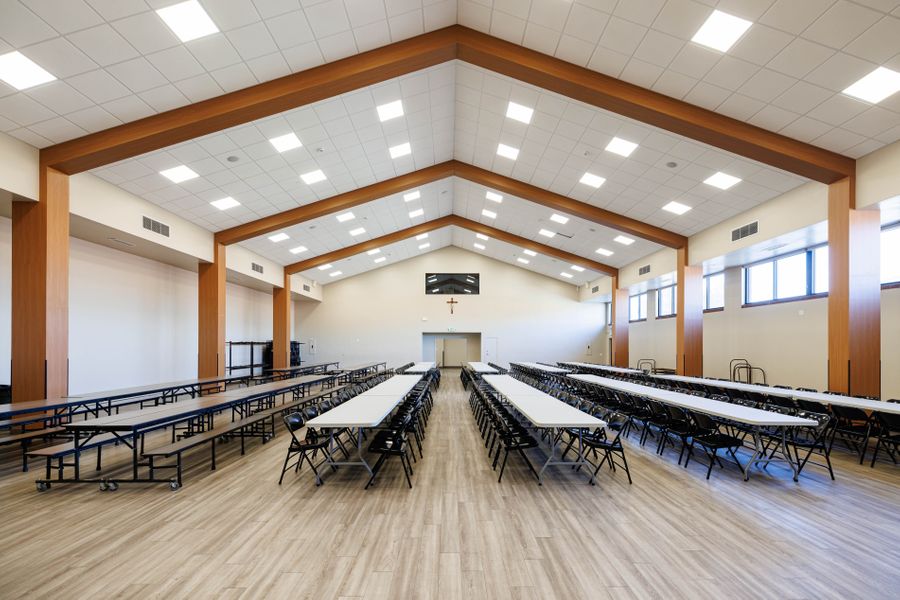 School Tours
We have been blessed with the opportunity to make significant campus improvements over the past 13 years. In 2010, we opened Our Lady of Loreto Center, a 22,000 square ft. facility which houses our 6th, 7th and 8th grade classrooms, a state of the art Science Lab and a gymnasium/auditorium. In 2011, all our existing classrooms received a "face lift" with new paint, windows, carpet, LED lighting, and in 2013 our library was completely remodeled. Our final project, completed in 2017, is our new School Administration Building, a beautiful 11,000 square ft. 2 story facility with school administration on the first floor and 4 classrooms on the second floor. All said, nearly $10 million dollars in campus wide improvements over the past decade – a truly remarkable transformation that you should see!
We would love to show you around our beautiful campus. We offer tours of our school in both English and Spanish by calling 602/242-1299, ext. 125. We generally like to give tours on Tuesday, Wednesday and Thursday mornings but will always try to work around your schedule. Your children are welcome to join you! A tour of our school with a staff member and one of our Student Ambassadors lasts about 40 minutes. Call us today and set up your own private tour of our campus!
SS. Simon & Jude Open House for prospective families
Sunday, January 29, 2023 - Mass at 9:00 a.m. Open House at 10:00 a.m.
The end of January begins Catholic Schools Week across the country. It's the perfect time for an Open House!
Our Open House begins at 10:00 a.m. in our school library with a presentation from our Principal, Sr. Raphael Quinn, I.B.V.M. followed by a brief question & answer session. Information will be available for all grades and a tuition assistance information session will be held with our office manager.
Comprehensive tours of our school will be given in both English and Spanish throughout the morning and our teachers will be in their classrooms and look forward to visiting with you! NO RESERVATION IS NECESSARY!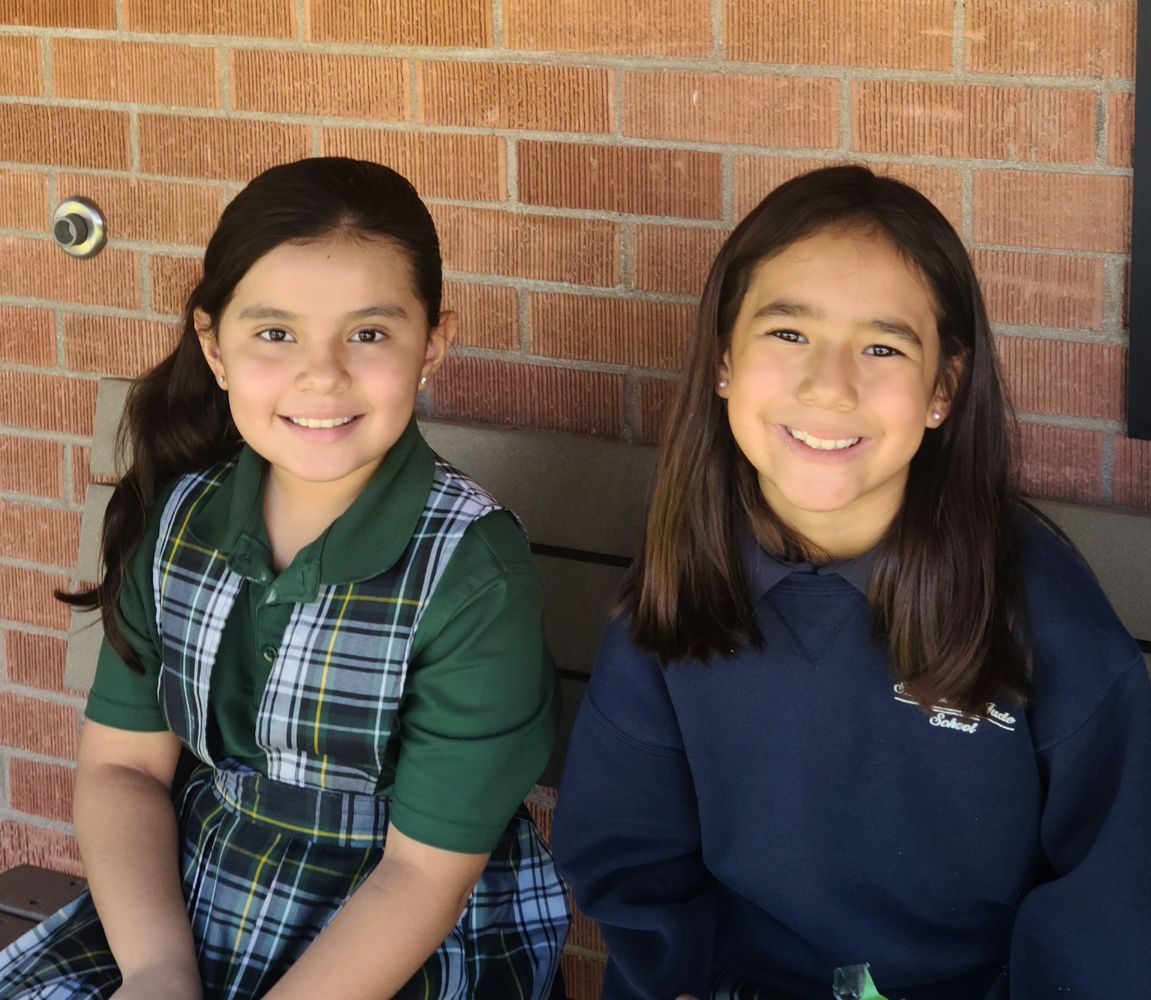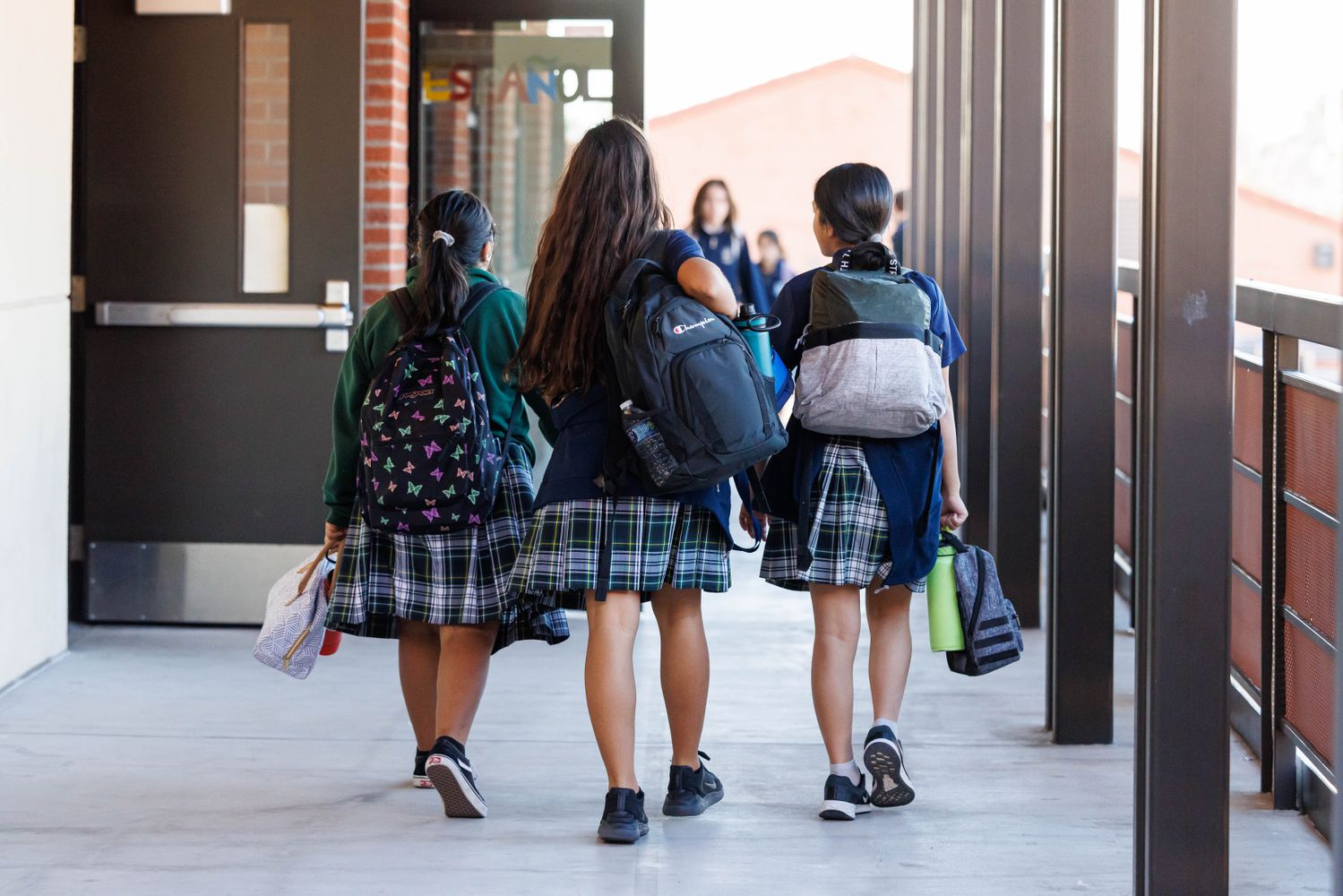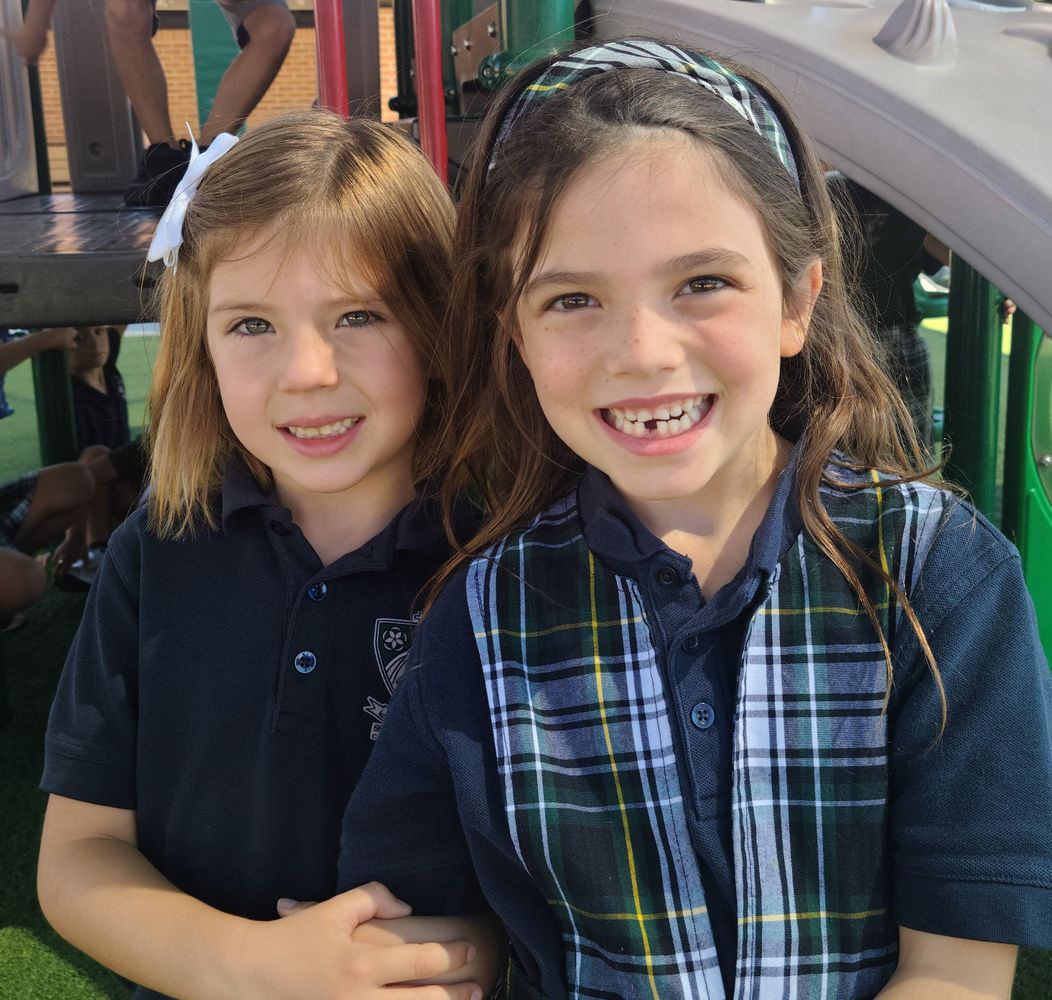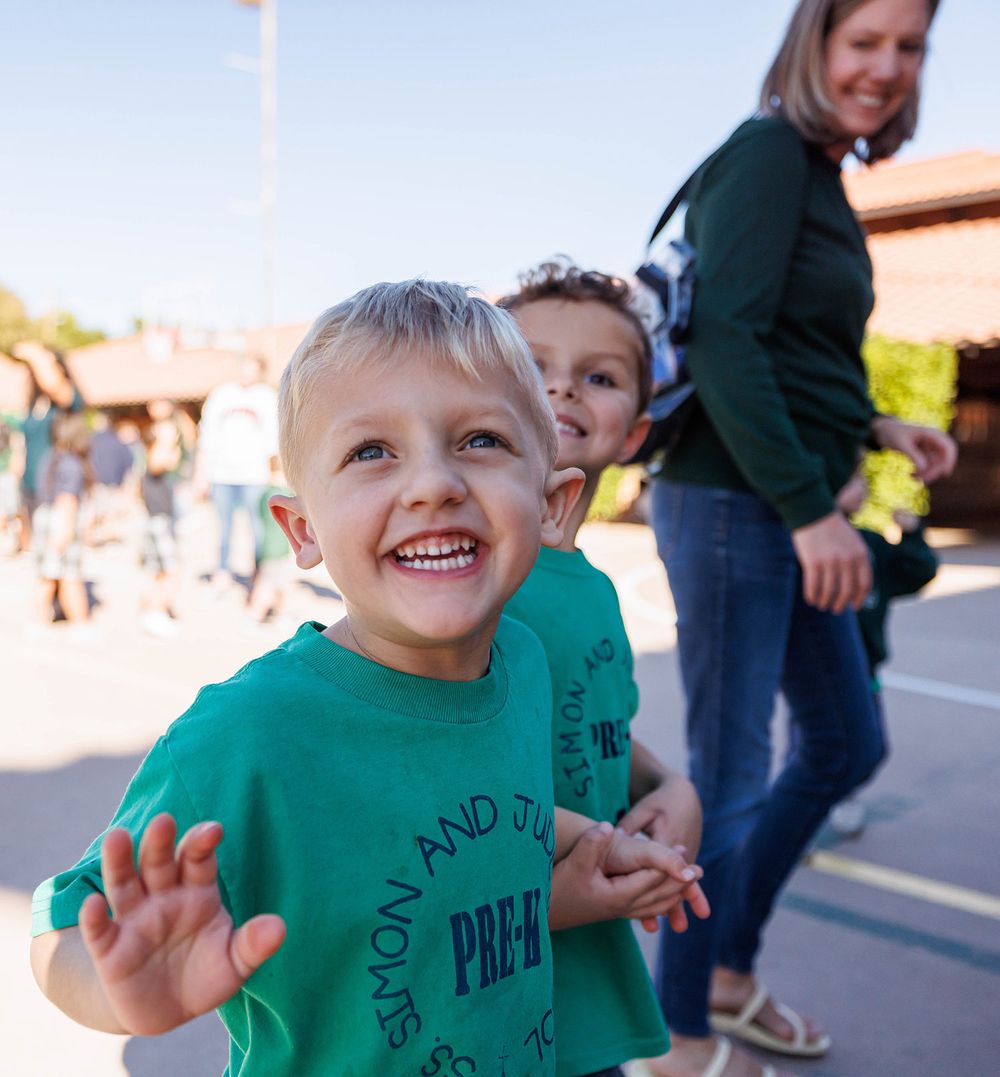 Can't make it to the Open House? We can give you a tour!!
We would love to show you our school! Ideally, we like to offer tours on Tuesday, Wednesday and Thursday mornings, but we can work around your schedule. Our school tours are offered in both English and Spanish. Please call the Office of Advancement to schedule your tour at 602-242-1299, extension 125 or click below to send us an e-mail for more information.
Before Care & After Care 
We offer Before-Care beginning at 6:45 a.m. until 7:30 a.m.

SAFEGUARD YOUR CHILD
At dismissal time, we are concerned about the safety of our students.
We will expect your child to come directly to the school library.
We will expect you to notify us by note or phone when your child is being picked up at 2:45 p.m. or earlier and will not be attending the after-school program.
We will be with your child at all times.
The children will go on bathroom breaks in groups accompanied by an adult who will check out the restrooms before the children go in.
We are certified in CPR and First Aid.
WE WILL RELEASE YOUR CHILD ONLY TO AN AUTHORIZED ADULT WHOSE SIGNATURE IS ON FILE, AND WE REQUIRE IDENTIFICATION ON SITE.

SUPERVISE AND ASSIST WITH HOMEWORK
We are the teachers.
We will encourage good study habits.
We will help your child figure out what she/he does not understand.
We will honor your request for completion of homework (if possible) before your child goes to other activities.
Generally, homework time will be 30 to 45 minutes.
Extra assistance with homework will be given when needed.

TEACH SOCIAL SKILLS
Basic social skills are the oil that lessens friction.
We will encourage good manners.
We will utilize the Discipline With Purpose system that is in effect in the school.

OFFER ENRICHMENT ACTIVITIES
Activities will be "free choice" for the teachers. Possible choices are:
Crafts
Board Games
Mind Games
Physical Games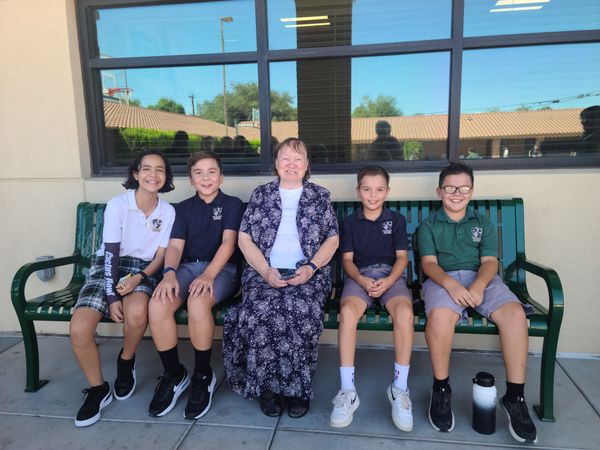 Uniform Information
School uniforms have traditionally been a hallmark of Catholic education, for several reasons:
Their use fosters a sense of unity and solidarity among the students of a given school.
Uniforms help to promote an environment of equality among students.
Use of uniforms eliminates difficulties in clothing selection for both students and parents.
As a visible sign and outward representation of SS. Simon & Jude Cathedral School, uniforms should be clean, neat, and in order, reflecting a pride in appearance which is consistent with the ideals of the school.
School uniforms are required. Specifics of the dress code policy are available in our Parent/Student handbook. Important uniform information:
Uniform shirts are sold at the SSJ Varsity Shop. Uniform bottoms may be purchased from Dennis Uniform Company anytime during the year.
Used uniforms are available at the SSJ Varsity Shop.
Dennis Uniform Company
3645 East Indian School Road
Suite #1
Phoenix, AZ 85018
(602) 220-0302
Fax: 602-220-0566
Non-uniform (free dress) day requirements are strictly enforced – refer to the Parent/Student Handbook for details.
*Administration and staff reserve the right to judge what is appropriate and acceptable.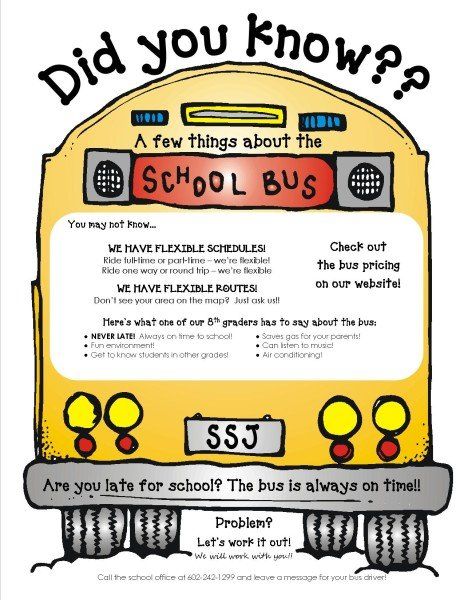 Bus Service
Morning and/or afternoon bus service to specific areas is available. Instructions for enrolling and a map showing the areas are distributed with the registration packet. Once the routes are set, families who have signed up will be notified of the pick-up time and place. Routes may change annually. Parents may review the routes and stops in the School Office.
The fee for bus service depends on the distance between your child's stop and the school. Payment can be included with tuition. If occasional emergency service is needed, you may purchase a bus pass for the day at the School Office. The guideline for emergency use is a maximum of twice a month. (A bus pass is $2.00 for one way and requires a note from you explaining what date your child will be riding, with whom, and what stop he/she will use.)
At some time during the school year, every student will ride the bus whether on a field trip or as a daily rider. Consequently, all students are required to study and follow rules and procedures set forth in the Parent/Student Handbook. The school has behavioral expectations for each student riding the bus. To ensure the safety of each child, these expectations are monitored. When the behavior of a student is inappropriate, the driver immediately communicates with the principal and appropriate consequences are determined.
Families are responsible for supervising students at the bus stop. Many families share this responsibility or arrange for an older student to assist.
Further information on the bus service can be obtained in the Parent/Student Handbook (issued in August) or in the School Office.
Financial Aid opportunities are available!
Please continue through our website and get to know us a little better, or come visit our school and let us take you on a tour!