Our Community
Our SS. Simon & Jude Cathedral School community is active and involved!
On any given day here at our school you will see parents helping in the cafeteria, coaching after school sports, chaperoning a field trip, or preparing for our annual school auction.
Our parents are very giving of their time and provide incredible support on a daily basis to help enrich our students' experiences. Quite often you will find our parents joining their children at our weekly Mass.
Our school does not mandate service hours, but we do encourage our parents to become involved in some way at our school. The children are pleased to see their parents on campus, and we enjoy their good company and the energy they bring.
There are a variety of ways, both big and small, to become involved. Click on the pages to the left for further information.
School Board
SS. Simon & Jude School Board 2023-2024
Todd Ahern
Adam Angulo
Jason Brummett
Teresita Mercado Feix
Jennifer Garcia

Sheryl Lovell
Troy Smith
The SSJ School Board, consisting of 10 lay members, is an advisory group concerned with promoting the objectives of the school philosophy and assisting the administration in providing quality Catholic education to all students.
The School Board helps formulate policies to govern the operation of the school in accordance with those directives already established by the Diocesan School Board.
Prospective candidates for school board positions may be nominated or may nominate themselves; in either case, concerned parents who would like to contribute to the smooth functioning of the school are encouraged to consider running for election. SS. Simon & Jude School parents are eligible to serve on the board.
Parents are also encouraged to volunteer their services with the School Board if they wish to be involved. There are a number of areas in which expertise or experience is needed in order to further the School Board's efforts and build on the partnership between students, families and parish. Please contact a School Board member or the School Office if you have an interest in any of the following committees or skill areas:
Budget & Finance
Interaction with school board, parish office and parish finance committee on annual budget and monthly financial reporting.
Mother's Guild
This organization is for all SSJ mothers. There are no annual dues, so every mother is considered a member. There are many opportunities for social interaction, fellowship, spiritual development, and service to SS. Simon & Jude and the community at large.
For information on how to get more involved, please call the school office.
Dads' Club
The Dads' Club is a vehicle for SSJ dads (grandfathers, uncles, or brothers, also) to:
Continually improve the school and its environment by committing time, abilities, resources and fund raising
Provide positive male role models at SSJ school and sporting events
Create a network of involved and active dads at the school
Promote social and professional networking
Engage in community service
Would you like some more information on being a part of the Dad's Club? Please call the school office.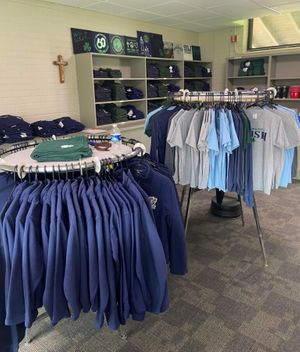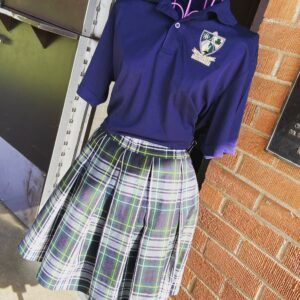 Varsity Shop
Our school has a GREAT assortment of spirit wear items in our Varsity Shop, as well as SSJ uniform polos in green, navy & white. Spirit wear is available in ALL sizes so your whole family can show their school spirit. Used uniforms are available for purchase throughout the school year as well.
Our SSJ Varsity Shop is located next to Room 19 across from the main entrance of the school.
Hours:
Tuesday/Thursday afternoons from 2:30 to 3:00 p.m.
Wednesday mornings form 7:30 to 8:00 a.m.
Interested in learning more?
Please continue through our website and get to know us a little better, or come visit our school and let us take you on a tour!