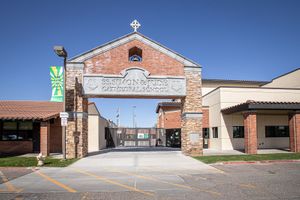 Welcome!
Cead Mile Failte!
That's ONE HUNDRED THOUSAND WELCOMES in Gaelic – a nod to our Irish beginnings here at SS. Simon & Jude Cathedral School! We have been "Alive With the Spirit" since 1954!
Our tradition of excellence began on August, 1954 when five brave nuns from Navan, Ireland began our school; the Loreto Sisters are still here at SSJ with several sisters currently living on the property.
Our school currently serves approximately 475 students in Grades Pre-K through 8th grade. When you send your child to a Catholic school, you do more than share your faith with them you also put your faith in us to provide your child with strong spiritual and academic foundations.
We are committed to offering a challenging academic curriculum in state of the art facilities, a variety of extra-curricular activities and many community service projects in order to assist each student in their development. We breathe in to every subject and extracurricular activity, the teachings of Jesus Christ. Students at SSJ participate in daily prayer and religion classes, receive sacramental preparation, have frequent opportunities for both worship and retreat experiences and attend weekly Mass.
We continually strive to hire lay and religious educators with advanced degrees and encourage our teachers to continue their professional growth. Many of our teachers have their master's degrees or equivalent and all of our teachers are certified by the Arizona Department of Education. Additionally, our school is fully accredited by the Western Catholic Education Association, the national accrediting body for elementary schools.
We hope as you navigate your way through our website you begin to see that SS. Simon & Jude is not just a Catholic school – it is a very special place; a place where you become part of our SSJ family and a place to call home.
We welcome you to visit our campus and see for yourself – we'd love to give you a tour! Call us today at 602-242-1299.
Schoolwide Learning Expectations
At SS. Simon and Jude, we believe a student should be:

A Follower of Jesus
Knows, loves and serves God
Sees God in all things
Recognizes and promotes the dignity of self and others
Makes choices in light of Catholic teaching, scripture and tradition

A Life-Long Learner
Academically prepared
Critical thinker
Well rounded

A Self-disciplined Person
Knows, practices and applies self discipline skills
Accepts personal responsibility
Understand actions have consequences

A Global Citizen:
Respects and cares for all God's creation
Recognizes and responds to the needs of others
Recognizes his/her role in the body of Christ
Inspired by the Loreto Sisters and their charisms – FREEDOM, JUSTICE, SINCERITY, JOY & TRUTH – our mission is to promote intellectual and spiritual growth by providing a quality Catholic education in a safe, compassionate environment, challenging all to live according to the gospel in a constantly changing world.
We, the Catholic educators of SS. Simon & Jude School, recognize parents as the primary educators in the formation and education of their children. We will work in partnership with parents to build upon this foundation. We believe in our God-given mission to facilitate the growth of each child in this faith community as a whole person, with responsibilities to God, the global community, and all creation. We strive to provide each student with the opportunity to acquire a personal relationship with Jesus in an atmosphere alive with the Spirit of God.
We emphasize the importance of individual potential, academic achievement, intellectual, and aesthetic growth. Believing in the uniqueness and dignity of each individual, we encourage each student to develop a strong, positive self-image by providing and expecting a Christian atmosphere characterized by understanding, respect, and acceptance of all people. We also believe every child is capable of developing moral values and self-discipline skills.
We are committed to teach and model behavior which will enable our students to develop the skills to become self-disciplined, reflective, discerning Catholic Christians. We will assist in the formation of children as they grow in Freedom, Sincerity, Truthfulness, and Justice. We expect our students will find God in each life experience and go into the future embracing the honor and service of God.
History of Loreto Sisters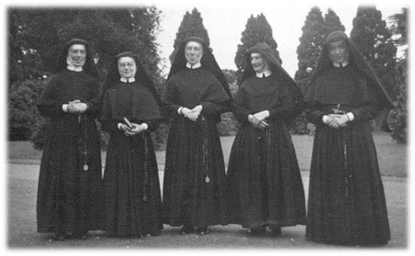 The journey of the Loreto Sisters began in 1607 with an Englishwoman named Mary Ward. She held the then radical belief that by educating young women, they would be empowered to take care of the faith. With vision, missionary zeal, and Christ's love, the Loreto Sisters of the Institute of Blessed Virgin Mary was founded.
The Arizona journey began in 1954 when Father Paul Smith, the founding pastor of Ss. Simon and Jude, was seeking a group of nuns to establish a Catholic elementary school. He contacted the Loreto Sisters in Navan, Ireland, who eagerly accepted the challenge. Five brave pioneers arrived at Ss. Simon & Jude to begin a mission that has greatly affected the lives of children for over 68 years.
Today there are still several Loreto Sisters at Ss. Simon and Jude, all highly educated, and always sharing Mary Ward's core values: Freedom, Joy, Justice, Sincerity, and Truth. Wherever they go, the Loreto Sisters immerse themselves in the entire life of the school and parish.
A substantial number of the current Ss. Simon & Jude student body are children of alumni. This is a testament to the Loreto Sisters' long-standing tradition of education. After more than 50 years, Sr. Raphael Quinn remains active in her role as principal.
The spirit at Ss. Simon and Jude is openhearted and open-minded. The Loreto Sisters' philosophy is to keep the original values that inspired their missionary vision. Children of various backgrounds and cultures thrive in the rich educational atmosphere, because five brave young women with Mary Ward's vision said, "Yes"."
We use a developmental approach to teaching self-discipline skills to our students. Our self-discipline program gives perspective on how to make every disciplinary situation "a teachable moment." There are 15 skills in this program as detailed below:

Basic Skills
Prompted: Birth – K
Internalized: K – 3rd
Listening
Following Instructions
Questioning
Sharing: Time, Space, People and Things
Exhibiting Social Skills

CONSTRUCTIVE SKILLS
Prompted: K – 3rd
Internalized: 3rd – 7th
Cooperating with Others
Understanding the Reason for Rules
Independently Completing a Task
Exhibiting Leadership
Communicating Effectively

GENERATIVE SKILLS
Prompted: K-7th
Internalized: 7th-12th
Organizing: Time, Space, People, Things
Resolving Mutual Problems
Taking the Initiative in Problem Solving
Distinguishing Fact From Feeling
Sacrificing/Serving Others
Book a Tour
Please continue through our website and get to know us a little better, or come visit our school and let us take you on a tour!